Cheer Clinic 2019
The long awaited cheer clinic for Tracy High was held in our cafeteria Wednesday Sept. 18. Many kids ranging from ages 3-15 years old came to the clinic to work personally with THS cheerleaders. In the clinic, the children were taught proper motion technique and a routine which they performed during the home game on Friday Sept. 20. 
The gym was full of unfamiliar faces of cheer members that he cheer team was going to coach, many things must have run through the "coaches" heads. Was their anything in particular they were nervous about?
Junior Marion Reyes said, "I wasn't really that nervous. I was more excited to coach"
 Freshman Olivia Onitty said, "I wasn't really too nervous before teaching at the clinic because I had went to these clinics when I was younger and I kind of knew what they were about. I was a little bit nervous that the kids weren't going to like me or were going to think that I was mean or boring." 
Young children always bring light and laughter into many people's lives. What was the most comical and funny moment you experienced while coaching?
"The funniest moment was when I was handing out Gatorade to the girls with Sydni Brewer and she only gave the girl a little and the girl look at the cup like what? I got it back and gave her more it was HILARIOUS," said Reyes
"The funniest part about the cheer clinic was whenever we were able to play little games with the kids or talk to them they would get really excited and run around and tell us all about their day and what they're doing and tell us stories as well as  tell us about things like their pets and their favorite foods and the way that they would describe them was funny," said Onitty
Spending 3 hours with the children was probably so heart warming and exciting to watch the faces of many brighten up as they learn and make new memories. What was your favorite memory made at the cheer clinic?
"My favorite part about the cheer clinic was teaching intermediate the dance," said Reyes.
"My favorite part about the cheer clinic was being able to be a role model  for all the little kids to look up too that were attending the cheer clinic and being able to teach them a routine and see how happy they were to be able to be doing the things that I am able to do every single week," said Onitty
As they took that field Friday night during halftime excitement filled the stadium. Many thoughts rushing through the brains of all cheerleaders, the wondering question of will they hit this routine popped in mind. What was your reaction to the girls routine during Friday night lights?
"I loved the girls performance on Friday night at the football game because you could tell that they were all very excited and happy to be there . They looked great and that made me happy," said Reyes.
"After working with them for only a day, for a couple hours, I was so proud to see them on Friday perform their routine," said Onitty.
About the Writer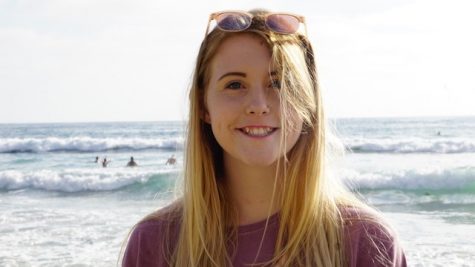 Kaylee McMillan, Writer
Kaylee McMillan is a senior and has been at THS all four years. Outside of school, she enjoys going to cheer practice and singing. Her goal this year is...