Seasons Changing
The weather in Tracy so far this fall just is not right.  This time last year we were getting rainy days, with clouds and it was cool weather.
For some reason though, this year has just been extremely hot and dry.  There have been multiple days this school year that have gotten up over 100 degrees for absolutely no reason at all.
Silver Archer, a senior here at Tracy High said, ¨The weather sucks, it is not supposed to be anywhere near this hot in fall.¨
Tommy Chavez, a junior said, ¨This heat is unusual.¨ 
Especially for the sports teams.  The weather greatly effects all of the sports.  For football the turf field gets over 100 degrees some days, and that makes you sweat a lot and burns youe feet.
If you are dehydrated, there is a good chance that you get heat exhaustion.
For both boys and girls water polo jumping into the pool for practice and games can be really refreshing sometimes.
Luc Miceli, a senior on the water polo team, said, ¨It is not that hot, and getting in a pool on a hot day does not feel good.  We were in a game and it was like an ice bath, have you ever been in an ice bath? It was really cold.¨  If you have ever had an ice bath you know how it feels.  
This month alone the temperature averaged just under 90 degrees.  This year was supposed to be the one that would start cooling off as it moved from summer to fall.
Kaylee Mcmillan, a senior on the cheer squad, said, ¨My favorite season is fall, because the leaves start falling and the weather starts cooling down.¨  The fall season is one of the best seasons that there is.  
Savanah Alejandre, a senior on the golf team, said, ¨California is super bipolar and I want summer to stay, because it goes from 100 degrees one day to 71 degrees the next day.¨  
Fall weather should consistently be between 65 and 75 degrees every day.  That is the perfect fall weather, not hot but also not too cold.
  DJ Asah said, ¨Right now it gets hot and since I´m dark I attract more heat and sweat a lot,  which I do not like. I would like the weather to be a little less hot, but not too cold because i do not have very many hoodies.¨ 
If you can wear a hoodie then the weather is perfect.  There are so many things that you can do with the cool weather.  Hopefully it comes soon.
About the Writer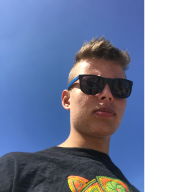 Michael Noll, Writer
Michael Noll is a senior and is a 1st year staff member in journalism. He enjoys playing football, pole vaulting, and is a scholar-athlete.