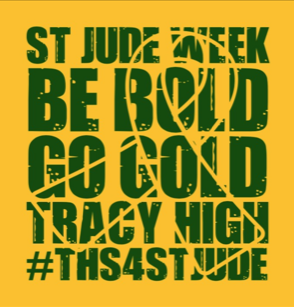 St. Judes Week
A new tradition has started over the last few years at Tracy High School. For the second year in a row, the students at Tracy Highhave started to fundraise for the St. Jude's Children's hospital.
The St. Jude Children's Hospital specializes in ways to help find a cure for cancer. All money fundraised is 100% donated to the families of the children that are suffering from cancer. 
Alayna Carter, Tracy High Leadership teacher, said "Our ultimate goal this year was to beat the amount of money we raised last year. We were number six in money raised across the country for St. Judes last year. St. Jude sends the top 5 schools in the country to Memphis, and this year we wanted to be apart of that"
For this only being our second year with the fundraising and not many people knowing about it, Tracy High students are killing it. This year we blew what we raised last year out of the water. 
"This year, I'm still counting, but I think we are going to hit $10,000 raised. Last year we hit just a little over $5,000." said Carter. 
Not as many people are into the fundraising aspect that could be. We are attempting to get more of the school to join, to help fight this disease. A lot of leadership kids were fundraising and that was a huge help. 
Carter said, "Marcus Corso, had raised the most amount of money out of the students at Tracy this year. He had tracked in just over $1,000."
Slowly as the years go on and as this week becomes bigger at Tracy High, these goals we have now should be crushed in the coming years.
If we work together as a school and get everyone to fundraise for this great cause, we will blow all schools out of the water and be number one.
So, will you help fundraise for St. Jude week next year?