Tracy, St. Mary's Homecoming Game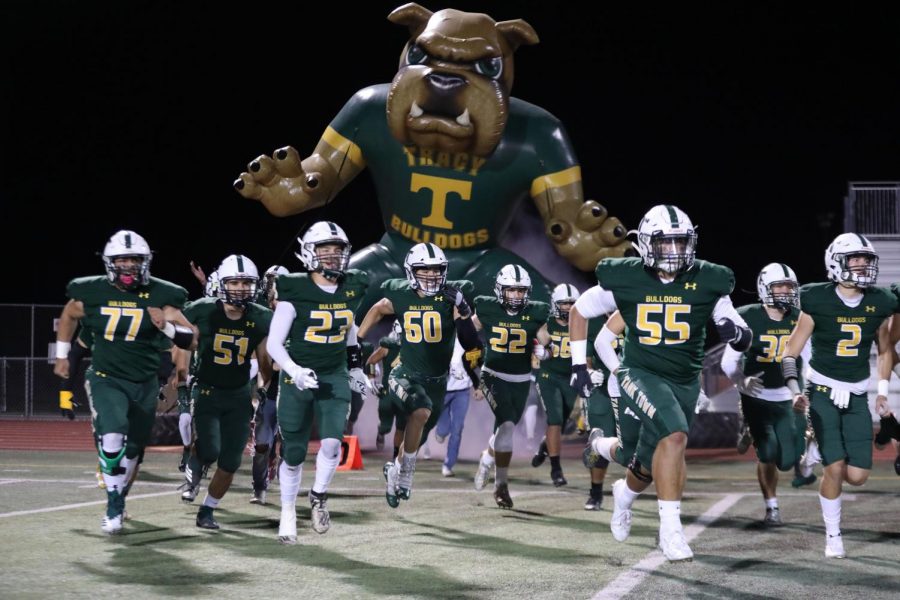 Elijah Quintana, Staff Reporter
October 28, 2019
Sadly, the 2019 Tracy High football season is coming to an end.  With Tracy only having two more games during the regular season.  The Bulldogs need to win these last two games to have a chance to make the playoffs this year.  With it being Logan Fife's, Trevor Pope's, and so many other talented seniors' last year, that is the goal for their final season.
Tracy High started off league well with a win against Tokay.  They won 52-14.  Unfortunately, the next two weeks were not the best for the Dogs.
First it was a loss against Lincoln.  They played at Lincoln, and all three levels lost.  Tracy's varsity put up a good fight, with the final score being 62-41.  Though the dogs were in it until the final 4 minutes.  Two Tracy players had multiple touchdowns.  As always Riley Revino was the running back never that never stops running.
The next week they played against St. Mary's.  Tracy played a good game but really did not show up on offense until the 4th quarter.  At half the score was 14-0 , St. Mary's.  Elijah Woods, a wide receiver and corner back had a good game for them.  For Tracy, Tommy Chavez had 2 interceptions in the 1st quarter.  The final score ended up being 28-14 St. Mary's.
The Bulldogs hope to have a win this week, squaring off against Lodi on the road.  With the team hoping to make playoffs, this is a big game for Tracy.  A loss all but insures they will not make the playoffs.  Tracy expects a win this week, however.
The final week of the regular season is against Tracy cross town rivalry, West High.  Though it is just a rivalry because those are two oldest high schools in town, not because West high is good.  For the past few years, West has not had a good football team.
Overall I think that the West game should be a great game because, for one, it is "the big game" and, two, it is Fife's last game and last game at home.
Hopefully it isn't his last game of the season and the dogs make playoffs.  It should be a high scoring game and hopefully all of the Tracy players get to get in the game.
Make sure to attend the last two games, especially the game against West High, which is on Nov. 1 at 7 pm at Tracy High.  Stay tuned to see if the Bulldogs make the playoffs.