Homecoming Football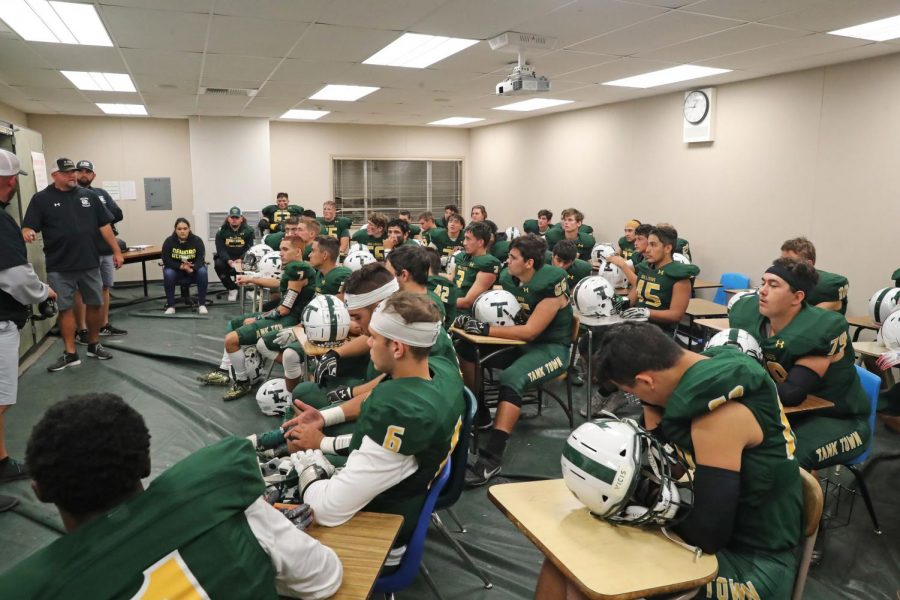 Elijah Quintana, Staff Reporter
October 25, 2019
This past week was Homecoming or what is better known as HOCO.  This is always a big week for not only the football team but for the entire school as well.
This year Homecoming is against no other than St. Mary's.  Traditionally schools choose to have homecoming against a team that is a guaranteed win.  This year the varsity squad would have to bring their A game to get the win.
Unfortunately, Tracy lost to St. Mary's.  St. Mary's will probably go on to win league.  The Bulldogs put up a good fight against one of their oldest rivals.  The final score was 14-28.  Compared to past contests where the score had been much worst, the Dogs managed to keep it respectable this year.  At halftime St. Mary's was up 14-0.
The Bulldogs defense did a pretty good job throughout the game.  It just seemed that their offence woke up a little late in the game.  Against some teams this might be okay, but against a team like St. Mary's, a slow start is something the Bulldogs could not overcome.
Although the outcome was not what we all hoped for, the game was very exciting.  Playing in their last high school Homecoming game for the Bulldogs was quarterback, Logan Fife, and wide receiver/safety,  Trevor Pope.  Fife has committed to Fresno State next year, while Pope will attend Oregon State in the fall.  Playing in his final regular season game against the Bulldogs was wide receiver/corner back, Elijah Woods, who will be attending San Jose State next year.
Another standout senior playing in his last Homecoming game was offensive lineman, Jason Reyes.  Known for being the strongest player on the team, Reyes hopes to continue playing football at the collegiate level next year.
A junior who had an impact on the game was Tommy Chavez.  In the first quarter, he had 2 interceptions and many more on the season.  Riley Revino, Tracy's RB as always had a good game. He never stops running and is by far the fastest on the team.
After the game I asked some player their opinions on the game.  They felt that it could have been better.  Also they stated that they had practiced what they saw during the game, just weren't able to execute.  The teams is disappointed to lose on Homecoming but can't wait to get revenge on their field next year.
With the loss the Bulldogs are 1-2 in league, but could possibly make the playoffs with wins in their final two games against Lodi and West High.