Baton Twirling Legend
Hang on for a minute...we're trying to find some more stories you might like.
Tracy High freshman Julia Sawin has left everyone speechless this year with her incredible talent in baton twirling. You may have seen her performing with the Tracy High Marching Band, or even performing in the Disneyland parade. Each and every home game this season, Swain has been wearing her beautiful dresses and twirling behind the Marching Band knocking people off their feet. 
Where did she get her inspiration to be a baton twirler?
"I was four years old when I started twirling, and my mom was a competitive baton twirler and got a scholarship to twirl in college. I guess you could say I was following in my moms footsteps. Besides that, I've always loved to perform and compete, and with my baton twirling there are many opportunities to become better and reach higher goals." Said Sawin.
Sawin has had many experiences in her career, as a being a baton twirler, here are her favorite memories
"In this sport if you work hard enough you are able to have many unique experiences, such as going to France. The biggest one for me has been my recent trip to France to compete at the International Cup and Grand Prix! I did also get to lead the DisneyLand parade and twirl down Main Street," said Sawin.
A lot of hard work goes into the performances. That means a lot of time,
"I am apart of a twirling team with seven members that train in Sacramento. Those practices are once a month for the entire weekend. They are 8 hour days with not many breaks at all. Individually, I try to practice two hours a night as well as on weekends. It can take me over a thousand times to master a new trick, so if I miss a night of practice, I can really fall behind in my competition" said Sawin.
High school twirling is new to Sawin. She has enjoyed it so far.
"Twirling for Tracy High is my first time twirling in front of my peers. A lot of my friends know that I am a twirler, but because it's mostly a competitive environment, there are not many opportunities for me to perform and show off the sport. It has been very exciting and fun to see all the support I have received from students and staff. I have also really enjoyed performing and showing off my sport because it is not common even though it's really cool!" Said Sawin. 
Come out and support our single twirler at each and every home football game. The effort Sawin puts into both cheer and twirling is amazing and she deserves everyone's love and support
About the Writer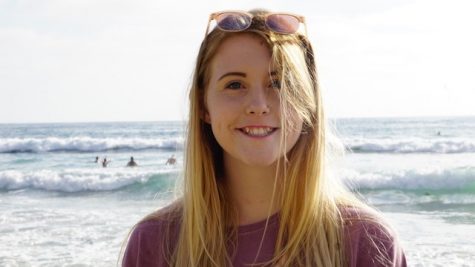 Kaylee McMillan, Writer
Kaylee McMillan is a senior and has been at THS all four years. Outside of school, she enjoys going to cheer practice and singing. Her goal this year is...