Cheer Takes Homecoming
Homecoming week is upon us and tons of emotions are running through the Tracy High Cheerleaders heads. Homecoming is fun and games for everyone, but for the cheer team it's time to put their head in the game and fight for the best routine they can make.
Tracy High Cheerleaders performed at the night rally Wednesday Oct. 16 as well as the official homecoming game against Saint Mary's Oct. 18 at the THS home field. With endless weeks of preparation they were ready to show all their hard work off and make some great memories with each other.
What were you most excited for homecoming week as a THS cheerleader?
"As a cheerleader, for homecoming week I was most excited for the homecoming parade because we get out of school early," said Makena Andora 
"I was so excited for the night rally. At the night rally everyone is actually watching and cheering on our team. It's time we put our all in and work hard," said Kaylee Anderson
Was the work you've put in on the mat worth it after each performance? Why?
"Yes the work we put in is very worth it because it is super embarrassing when you go all out and mess up and it makes everyone look bad. You know that you can do better so that's why you give it your all during homecoming. When you do everything good and hit everything, it is a great feeling of relief," said Andora
"Yes the work we put in is absolutely worth it. We work our butts off, blood, sweat and tears each and every practice approaching homecoming. Though it may be the hardest times of our high school cheer career, it's worth it" said Anderson
What homecoming event were you most excited for?
"I was most excited to cheer for the big game day because we had the opportunity to mix with varsity and sideline with them," said Andora
"I was most excited for the homecoming dance! It was something to do and celebrate with other people that homecoming was finally over," said Anderson
Besides constant practices, each and every cheerleader finds ways to relieve stress and relax during the long weeks of homecoming. 
How do you relieve stress from all the practices you handle in preparation of homecoming and future large games?
"A big way I relieved stress from homecoming was definitely taking naps whenever I had the spare time," said Andora
"A large way I relieve stress is through naps. Napping brought back energy and as well as made me feel better" said Anderson
With very minimal games left in the football season, everyone is encouraged to go cheer on your schools team and assist the cheerleaders in what they love doing most. Tracy High Cheer better take us off our seats!
About the Writer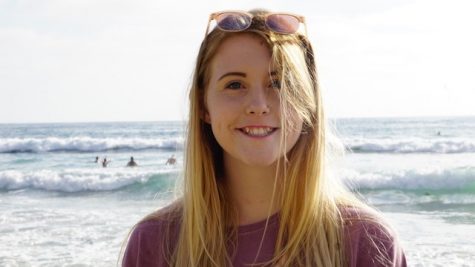 Kaylee McMillan, Writer
Kaylee McMillan is a senior and has been at THS all four years. Outside of school, she enjoys going to cheer practice and singing. Her goal this year is...