Football Wraps up the Season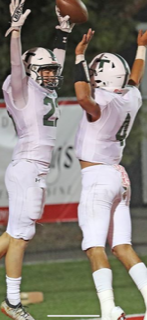 Hang on for a minute...we're trying to find some more stories you might like.
With the Bulldogs expectations being high in playoffs, it was upsetting to lose in the first round.  Though getting to the playoffs wasn't easy for the dogs this year.  In preseason they were 1-4 which is a rough start.  Gratefully their only win in preseason was to another team in Tracy, the Kimball Jaguars.
Then, the team was able to turn it around once league started. Maybe not to what some expectations were but at least ended up over .500 in league.
Tracy was able to start league off with a win against Tokay High.  Though it was an easy win, the dogs having gone 1-4, would gladly take it.
In week 7, Tracy played against a very good team in Lincoln.  The dogs came prepared to win.  In fact, they were very close until the final minutes when they made little mistakes and they ended up loses the game.
The next week was homecoming. It was week 8 and the dogs had a strong opponent that week as well.  Homecoming was against St. Mary's and a win would have been huge.  At half St. Mary's was up 14-0.  The dogs played good, just not good enough, and ended up losing 28-14.
Week 9 was on the road at Lodi high.  Overall it was a  tight game until the end, where the dogs broke away with the game.  It was an offensive game, the first play for Tracy, Fife threw a deep ball to Pope for a touchdown.  Unfortunately, on another of Pope's touchdowns, he got hurt and had a season ending injury in his arm.
In the last game of the season, Tracy played West high.  This game is also known as the Cross Town Classic.  It has been a long time since Tracy has lost to West.  This game was the same, Tracy handled West decidedly .
Because of these last two wins, Tracy High made the playoffs.
This year in playoffs, Tracy played Central Catholic in Modesto.  Even though the dogs were the 12 seed and Central Catholic were the 5 seed, they still believed they could win.  Tracy practiced all week like normal to win this game.  Unfortunately, Tracy season was over after the game.  They played their best but came up short.  The final was 58-14.  The dogs can't wait to come back next year and try to improve.