College football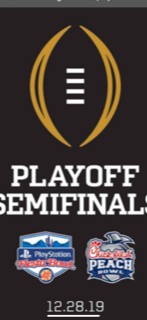 Elijah Quintana, Staff Reporter
December 17, 2019
With the year only having a few more weeks left, a lot is happening. Christmas and New Years are almost here.
A major part of December is college football post season. You need at least six wins to be eligible for a bowl game.  If you are lucky enough to be one of the few teams that stay undefeated then you will probably make the college football playoffs.  Originally the two best teams in college football would play each other for the national championship title.
Recently college football decided that two teams isn't enough, so now there are four team playoff.  The one and four seed play and they play the winner of the second and third seed.  So instead of there just being one big game, there is now three games that are important.
If you are not one of those lucky four teams, but you still have six or more wins you will play in a bowl game.
A bowl game is a game between two teams that usually would never play each other in the regular season.  Basically a bowl game is a championship game for those two teams.  Obviously everyone wants to win a national championship but if you have six more wins and win a bowl game, its a winning season.  The four teams that made it this season were (1) LSU, (2) Ohio State,  (3) Clemson, (4) Oklahoma.
Oklahoma and LSU  are playing in the Peach Bowl game, Saturday 28 at 1 pm.  On the same day at 5 pm Clemson and Ohio State play in the Fiesta Bowl.  Though Ohio Sate is ranked one spot higher, I think Clemson will beat them.  I also think LSU will beat Oklahoma.
One thing that is very different this season and especially this college football playoff is that Alabama is nowhere to be found.  Typically Alabama is ranked number one every year for about the last ten years.  The fact that they are not number one and they are not in the college football playoffs is crazy.  This was definitely a difficult season for the Tide.  They lost to LSU, though they are a very resistible team, they also lost to there big rival in the "Iron Bowl" against Auburn.  Also they did not have a good quarterback.  One transferred to Oklahoma and the other got hurt during the season.  So this years was not Alabama's year.
Overall I feel that LSU will win the championship.  I can't wait to watch it.