Winter Break
Second quarter is almost over, which also means that Winter Break is getting closer. It starts on Dec. 21 and goes through Jan. 5 and a lot of people have already planned out what their doing during break.
"I am going out of town to watch a lot of Christmas musical theatre productions," said Maddie Montano, a senior at Tracy High.
"Over break I'm planning on staying home and relaxing meeting up with friends and doing winter things like going to the snow," said Marion Reyes, a junior at Tracy High.
"I plan on resting and going out to have fun with family and friends over break," said Brianna Garcia, a senior at Tracy High. 
"Over break I'll probably spend most of my time under blankets watching Christmas or Disney movies," said Arianna Kury, a senior at Tracy High.
"I actually don't have set plans for break this year, but I really look foward in getting in more hours of work and sleep! Maybe I'll go on a few runs here and there to help me condition for track," said Kimblery Bia, a senior at Tracy High.
A lot of students usually go on big trips like to Hawaii, Mexico, Texas, etc. for Winter Break.
"Not really, I'll be at home and maybe in Sacramento," said Montano.
"One of the exciting places I'm planning on going to for break is Disneyland with a friend. However, my plans never pull through so that might not happen, but i am going to San Francisco and possibly going down to Mexico to visit family which is just as equally as exciting," said Reyes.
"I'm not going anywhere exciting over break," said Garcia.
"We don't have any set plans for travel but go to the snow," said Kury.
"All I know is that I have family coming from different states over to spend break with and of course we're going to be driving around," said Bia.
Christmas Eve happens during Winter Break and for the most part students are doing a whole bunch of games, activities, and presents for their Christmas Eve.
"I am going to Christmas Eve service, and I am also probably going to work a few extra hours," said Montano.
"For Christmas Eve I am planning on spending the day at my nana's, it's a tradition and I am super excited because we are all wearing ugly sweaters," said Reyes.
"For Christmas Eve, I think my family and I are just staying home and watching movies and doing nothing," said Garcia.
"Every Time on Christmas Eve we all open one gift and get to wear pajamas that night and Christmas day from my nana and papa," said Kury.
"So far, I know I'll be working a few hour shift on Christmas Eve, but it shouldn't be to bad! Looking forward to earning that money!" said Bia.
New Years happens during Winter Break and some students are celebrating with a group of friends and family.
"I am gonna have a sleepover with a few friends," said Montano.
"For New Year's Eve I am not throwing a party but I am looking forward to partying with friends the night before for my friends birthday on December 30," said Reyes.
"I'm not throwing a party for New Year's Eve, but I am hoping I get to spend it with friends," said Garcia.
"I haven't decided on throwing a party but it's a possibility or I'll spend it with friends elsewhere," said Kury.
"Throwing a party with my family. There's going to be a lot foods and karaoke. I also really look forward in spending time with my friends," said Bia.
Hope everyone gets to relax and have fun during the Winter Break since finals will be over. Hope everyone has a good Winter Break!
About the Writer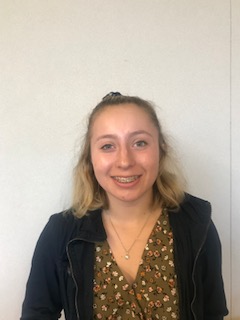 Abbygayle Frea, Reporter
Abby is a senior at Tracy High School. This is her second year in journalism. She's on the Tracy High dance team. Her favorite hobbies are reading,dancing,...