College Football Championship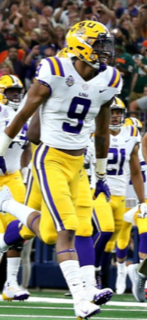 Elijah Quintana, Staff Reporter
January 31, 2020
College Football…whats not to love!?!  Some say it is better than the NFL.  Could that be true?  Not only does it seem that the players are more passionate, it can also be an inexpensive event which makes a great family day.  The spirit that you will witness is mind blowing.
The 2019 season of college football was a wild one.  Of the 125 Division 1 teams in the entire nation, only the top 25 teams are ranked.  At the end of the regular season, the top 4 teams in college football meet in the BCS Playoffs.  The 1 and 4 team play each other and the 2 and 3 team play each other.  The winners of both of those games play in the National Championship Game.
Usually every year for about the last ten years Alabama has always been there and have been the team to beat.  If you are really good coming out of high school your dream would be to go there.  Majority of their players get drafted and do pretty well in the NFL.  For example Julio Jones, Derrick Henry, OJ Howard, Amari Cooper, Landon Collins, Mark Ingram, etc. In the last ten years Alabama has won five championships.
Though recently other schools have become better because there are many talented players, but they all can not attend Alabama. Teams like LSU, Oklahoma, Clemson, Georgia, and Oregon have also been competitive and successful.
This year the top four teams were LSU, Oklahoma, Clemson, and Ohio State.  LSU destroyed Oklahoma in the Peach bowl.  This win took them to national championship game.  On the other hand Clemson had a much closer game with Ohio State in the Fiesta Bowl.
The championship game was between two very talented teams, LSU and Clemson.  Both teams have produced players like Deshawn Watson (Clemson) and OBJ (LSU).
The championship game was on January 13th.  Although most thought LSU would win, I was optimistic that Clemson would repeat as a National Champion.  Clemson kept it a close game in the first half.  The second half was a different story.  LSU won the game 45-25, and became the National Champions for the first time since 2007.
I think most of use were glad to see a new team have a chance to win besides Alabama.