Baseball Preview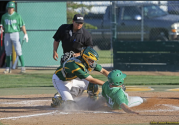 Marcus Corso, Staff Reporter
January 30, 2020
A new semester means a lot of different things for a lot of different types of people. For some, they look forward to the blossoming flowers, others its that much closer to the end of the year, and still others get ready for their next sport to start up.
Baseball is one of the many sports that you have to wait all the way until spring to enjoy. Our varsity team in particular should be fairly good as well. Last year, the team made it to the second round and had a tough loss to a good team.
This year Tracy High baseball hopes for a different result to the season. Although a fairly different and difficult schedule, Tracy could have a very different result than last year.
The start of tryouts are on Feb. 3 at 3:30. Tryouts will continue all the way until Feb. 15. Feb. 16 the final cuts will be made, setting up the team for Tracy High baseball's first game of 2020 on Feb. 29 against Kimball High School.
League will begin for Tracy on Mar. 30, starting against Tokay High School, then followed by Lincoln, St.Mary's, Lodi and West. After league, Tracy hopes to make the playoffs and make a good run for it all this year.
Varsity Baseball pitcher Kyle Mulhern said, "This baseball season should be alright. We have a lot of new young guys coming in that should give some new blood to our team. This season should go pretty well though because a lot of other teams lost a lot of their top tier guys that really helped them in years before. This year's hardest game should be against St. Mary's. They are always an extremely good team and we can never go in to easy against them."
The baseball players would love to see you come support them at the games this year. Hope to hear you cheering them on.