Girls' track team looks for improvement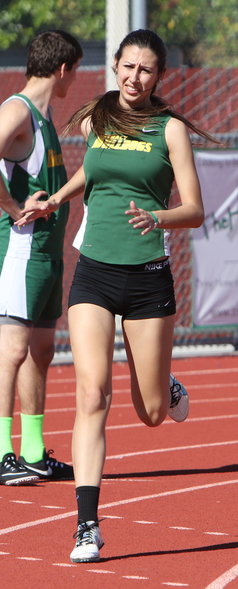 Hang on for a minute...we're trying to find some more stories you might like.
"
Our biggest competition in league is usually Lodi or Lincoln."
— Nicholas Nunez
.
Tracy High School's girls' track team is working toward improvement. The track team has already had three meets: All City Meet, Port City Invitational, and Jaguar Relay.
Coach Mauricio Martin believes that the team is improving.
"Our kids are getting better with every practice," Martin said.
Sophomore Evalina Maas-Espinoza is currently the top female thrower in league.
"My main goal is to throw 110 feet in a meet to qualify for the Mount Sac track meet in Los Angeles," Maas-Espinoza said.
Distance runner Emily Simons has many goals that she wants to achieve. Simons, a senior, runs the mile and jumps hurdles.
"I am trying to break a six-minute mile," Simons said. Long-distance coach Melissa McCullough is inspired by her group.
"The girls work really hard every single day," McCullough said. "We've built a very strong work ethic and determination in our athletes."
Maas-Espinoza is really looking into playing sports at the collegiate level and believes that track will help her get into the college of her choice.
"I put a lot of time in my training. I go to camps and work with experienced throwers, even Olympians," Maas-Espinoza said.
"Our team works extremely hard and puts their all into their events," Martin said. "We as a team, strive for progress every day."
According to Coach Jeff Pribble, the top throw he has seen so far is from sophomore Maas-Espinoza at the Port City Invitational at Bear Creek with 109 feet 3 inches. Pribble's goal is to have his varsity girls/boys throwers win league.
The track teams' next meet is against Tokay High School on April 7, 2016 at Tracy.