"Promposal" season begins for Tracy High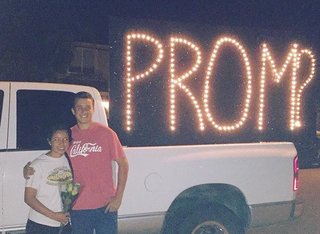 Hang on for a minute...we're trying to find some more stories you might like.
As prom comes closer, much preparation and work is being put into one of the most exciting parts of it- the "Promposals". Some proposals are quite extravagant, and many of the students are excited to see how people are asked this year.
"I'm excited to be on the yacht for prom, but I also can't wait to see some of my friends get asked to it in cute ways," senior Rachael Fernandez said.
Many boys have started planning the way they are asking their date to prom, and there have also been plenty of different promposals made.
For example, junior Noah Woodard asked sophomore Ally Vierra with a creative display of lights on his truck that spelled out "PROM?"
"It was a really creative way to be asked, and I'm happy to even get the chance to go to prom as an underclassman," Vierra said.
Although it can be challenging to come up with ideas for promposals, some students have found that using various websites and sources helps a lot. These proposals have ranged from being presented with a large poster, or even favorite foods of the person getting asked.
"I asked my date to prom with her favorite foods from Wing Stop, and made a nice poster to fit the theme," senior Adeel Hussaini said.
Prom is on April 23 and the students are more than ecstatic to have a great night. There will be plenty of food, music, and dancing for those attending, and the event will be held with Hornblower Cruises and Events leaving from Pier 3 in San Francisco.
"
It's going to be a really fun night with friends, and I can't wait to go with my date."
— Noah Woodard