Tracy students donate 53 units of blood at blood drive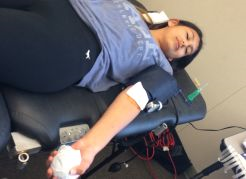 Hang on for a minute...we're trying to find some more stories you might like.
"
I would recommend donating if you're able to, because it wasn't as bad as I thought it was going to be. I would definitely do it again."
— Naomi Moore
Tracy High School donated 65 pints of blood at a blood drive hosted by the Delta Blood Bank at Tracy High on March 10.
The blood drives are designed to obtain blood that hospitals use if a patient is in need of blood.
Leadership class set up a sign up area for students who were donating blood. Junior Wendy Zanker was one of the leadership students in charge of setting up the blood drive.
"It was great, it lasted the entire day," Zanker said.
Students who apply to donate blood must have specific requirements: must be at least 17 years old and weigh a minimum of 110 pounds.
Students who are under 16, have to weigh at least 115 pounds, and have parental consent.
Before donating blood the Delta Blood Bank encourages all donors to drink plenty of fluids and eat meals.
Tracy High's original goal was to donate 53 units. Seventy-eight students registered to donate blood, but13 of them opted out.
Senior Emily Simons was one of the 65 students to donate blood.
"I felt it was my responsibility as a human being to donate blood because I wanted to be able to save lives," Simons said. "The process itself took a while, and it was pretty painful because my blood was really thick. I definitely think that all students should donate blood if they are capable, because it could save so many lives."
Tracy High reached 125 percent of its projected goal.
"Our original goal was 50 people and we got 65. We were able to save 195 lives," Zanker said. "More than enough students participated, and I am really happy with the results we got, because it will help a lot of people."
Senior Naomi Moore also donated blood as well.
"I feel like as a person with healthy blood it's my obligation to donate it to people who are in need," Moore said. "I would recommend donating if you're able to, because it wasn't as bad as I thought it was going to be. I would definitely do it again."