Prom with West High turns out to be a success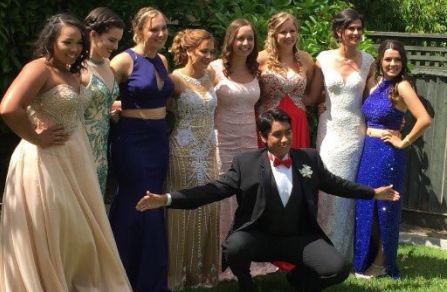 Hang on for a minute...we're trying to find some more stories you might like.
At this year's prom, students got to experience a new, extravagant venue that came with great food, dancing, and the amazing views of the San Francisco Bay. The Tracy High students were joined by West High students on the Hornblower Yacht on Apr 23, and everyone seemed to have had a fun night.
"
Prom was definitely one of the highlights of my high school career, and it could not have been better."
— Mumen Abbas
Although many students worried about the dance being combined with West, prom actually turned out to be an even better experience because of it.
"I actually got to see some of my West High friends when we were dancing, and I got to have fun at prom with them, too," senior Bridgette Houser said
Along with the joining of schools for the event, there were many other factors that played a key role in making prom a memorable night.
"The view of the city was the best part, in my opinion," senior Julia Vares said. "It was really cool to see the Golden Gate Bridge, AT&T Park, and the Bay Bridge"
Other students enjoyed the food that was provided, as well as the photo booth and music that were on different floors of the yacht.
Prom was a great night for those who attended, and it was full of many great moments for both Tracy and West High students.
"The best part was when I got to see how amazing my date looked, and how everyone got along, which definitely made my senior prom much more memorable," Abbas said.