Girl's Golf Season Comes to an End
Hang on for a minute...we're trying to find some more stories you might like.
The girl's golf team ended their season on Oct. 11, with their last match against Tracy High's rival, West High. The girls won the match and shot some of their best scores, a great way to end the season.
Golf takes lot of time and dedication as the girls have had to miss school for matches and invitationals. At invitationals, girls play 18 holes with teams from all over the central valley.
They typically take off a whole school day. The team has participated in many invitationals this year. The girls played in a total of four invitationals: Merced Invitational, Yellowjacket Invitational, Poppy Ridge Classic, and including their own Bulldog Invitational.
Matches aren't as time consuming, the girls only play nine holes against one team. Some of the teams the girls have played against are Riverbank, East Union, Edison, Tokay, Lincoln, St. Mary's, and West High. The team's best score of the year was 260. The team's record for the season is 5-10 4-6, they took fourth in the league.
One of the captains of the team, Kelsey Bas, reflected on the season. Bas, who has been playing golf since she was six, is the number one on the team.
"For me personal I was just like, shoot 80's or even low 90's and I've been doing that," said Bas.
Bas also talked about the team and some of her favorite moments from the season,
"My favorite moments are the van rides with all the girls because we're all crazy and it's so fun to talk with them one-on-one," said Bas.
Bas commented on the team's bond.
"Our team has the best bond," said Bas.
This season has been great for Bas, she shot her best score an 84 which she was very happy with. Bas qualified for the postseason, along with her teammate, Hayden Andrade.
"Kelsey has been a very consistent golfer for us for the last three years. Hayden making it is a wonderful accomplishment," said Derek Solano, the coach.  
"Next season we lose a very important member. But we have a majority of the team returning. So I am very optimistic," said Solano.

About the Writer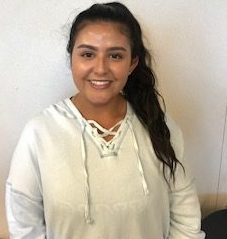 Alexandra Cruz, Editor
Alexandra Cruz is a senior and this is her first year on the staff. Alex is the Vice President of Makeup 101, where she can express her passion for makeup...