MSA Responds to the Mosque Attack in Christchurch, New Zealand
Hang on for a minute...we're trying to find some more stories you might like.
On Friday, Mar. 15 there was an attack on two mosques in Christchurch, New Zealand. The attack left 49 dead and 20 injured. The time of the attack was around noon when the mosques were full of worshippers. The prime minister of New Zealand referenced this attack as a terrorist attack and New Zealand's "darkest days." 
Though this attack was far away from Tracy, California, people still felt its' impact here, especially the Muslim Student Association (MSA) at Tracy High.
Adil Raniwala is a senior at Tracy High and the president/ founder of the MSA. Raniwala started the club his sophomore year with two other seniors.
"We knew that Muslims in Tracy High School didn't have anywhere to really go to express their faith, we knew that the other schools around Tracy also didn't have those kinds of clubs and if they did they were really small. So we wanted to start one in Tracy High School just to get the representation out and show that we're still a community that needs a place to stay or express our faith," said Raniwala.
At a typical MSA meeting, which happens every Thursday in A213, the club responds to certain crises, run donation campaigns/food drives, and also religious issues that youth are faced with. The club is open to all types of backgrounds.
"Being Muslim or non-Muslim if you want to learn about Islam you can come over", said Raniwala.
Raniwala enjoys that fact that he can educate others about his faith.
"I think my favorite aspect is the education of people that either subscribe to the religion of Islam and may just not have a lot of information or people who aren't muslim in the first place and want more information of the religion," said Raniwala.
Raniwala was informed about the attacks on mosques in Christchurch. He shared his thoughts, views, and clubs views on the attack.
"It was absolutely an atrocity," said Raniwala.
Raniwala shared his first reaction to the attack.
"My first reaction was trying to avoiding the horrific video, I chose not to see it," said Raniwala. 
Raniwala shared that he sought out to seek the motives and views of the shooter.
"I did seek out the views of the shooter, the views of that terrorist, that committed those horrific actions and I tried to understand them and that's something we've been stressing really heavily especially in the MSA meeting that we had where so many people showed up for the discussion of the Christchurch massacre is we told them the views of that shooter and we told them how we would respond to the views specifically as opposed to outright condemnation at the beginning we condemn it after we present the views," said Raniwala. 
At MSA's meeting after the attack, Raniwala shared that the club had discussions about the views the shooter held, how they should respond to it. After the discussion, the club condemned the shooter's views and actions. They also discussed any questions people had about the Islamic faith. To Raniwala's surprise, there were a lot more people than usual.
"It was very much a surprise for me as well, I did not know that twenty people were going to show up for our group discussion, it was fantastic," said Raniwala.
This support that the club received was due to Daniela Zaragoza, a senior at Tracy High. Zaragoza presented the MSA club with flowers and cards of condolences with the leadership class and other students of Tracy High.
"I just watched him (Adil Raniwala) come in so humbly and quietly and I felt like I had to do something," said Zaragoza.
Zaragoza also felt that there wasn't enough attention to the issue. Zaragoza shared that the administration would not allow for a moment of silence unless it was mandated and Raniwala could not call the attack a terrorist attack in his morning announcement.
"I just felt there had to be more support and if the administration wasn't going to do it at least the student body (could)," said Zaragoza.
Zaragoza shared her idea with Prabhleen Bagri and Gurleen Parmer. Zaragoza said they helped her get the idea going and helped get the leadership class involved. The leadership class made posters for the MSA club.
"We bought six bouquets of flowers, six cards. Inside the cards I tried to incorporate quotes from the Quran," said Zaragoza.
Zaragoza said there were around 20 people who presented the flowers and cards to MSA. They stayed for the meeting and joined in on the discussion MSA had. At the meeting, there was a different variety of people with different religious backgrounds that were informed about the Islamic religion.
"Even the people who weren't Muslin, and myself, we learned a lot about their religion. About how peaceful it is and how misconstrued people have on the beliefs," said Zaragoza.
People who attended did learn lots about the Islamic faith. One thing Adil Raniwala takes away from this tragedy is to not let it influence your faith.
"Don't let it sway your faith in Islam," said Raniwala.
Raniwala encourages people of different backgrounds to come to learn about the Islamic faith.
"If you know more about them you can work together way more and I think that exactly reflects the atmosphere right now… people who want to know more about Islam all they have to do is ask," said Raniwala.

About the Writer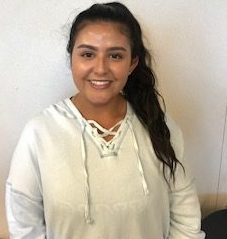 Alexandra Cruz, Editor
Alexandra Cruz is a senior and this is her first year on the staff. Alex is the Vice President of Makeup 101, where she can express her passion for makeup...