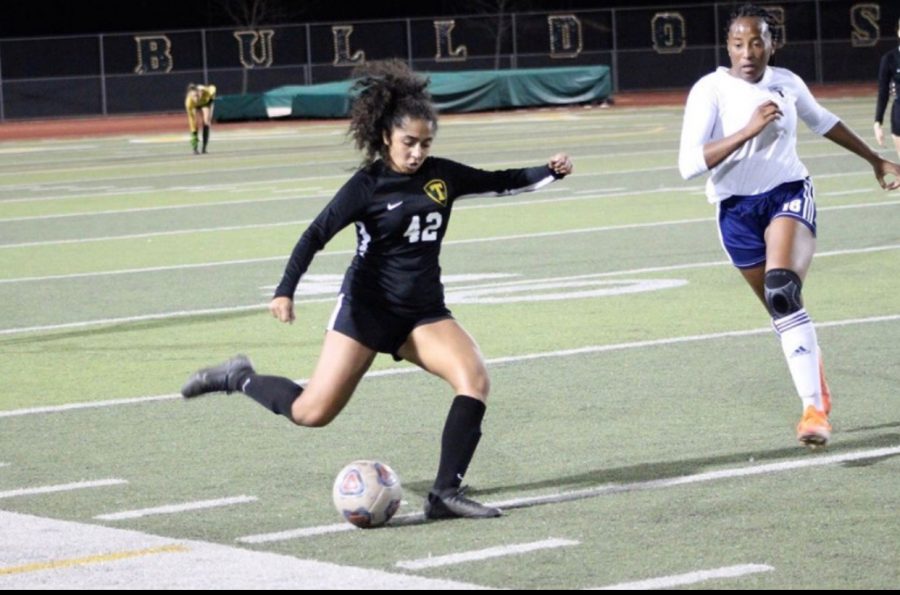 Mysha Mamsa is a senior at Tracy High School. She has been on the varsity tennis team for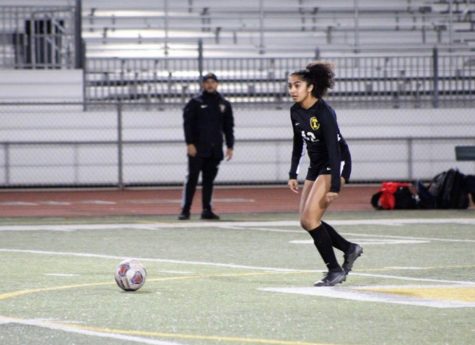 the past year and on the junior-varsity and varsity soccer teams for the past three years. Along with being an athlete, she is also a part of the rigorous IB Diploma Program.  Mamsa shares how the pandemic has affected her training, balancing  school with sports and the people that push her to be better.
How have you been practicing lately for soccer and tennis?
For soccer, I practice my footwork because I think that is one of the most important fundamentals of soccer to master. I go to the park and dribble around some cones to keep my skills in check. For tennis, we have been having tennis practices twice a week so I usually go to those. Outside of practice for the team, I hit with my dad and Zaid ( brother) who are very good at the sport. The ball machine is also an excellent practice tool as well.
What advice do you have for those that have not been able to practice their sports during the pandemic?
My main advice is to just stay in shape. Essentially, the core of every single sport is to stay in shape. I try to stay in shape by lifting weights at home and running a mile around my neighborhood. Also I think practicing the basic fundamentals of your sport is also crucial and that can also make you better.
How do you balance school and sports? Especially since you're in the rigorous IB Diploma Program.
I think that no matter how much stuff you have to do for school in a day, you have to include a non-negotiable workout. It is always important to stay in shape and just exercise. The two most important things is accountability and scheduling.
What are your goals for your upcoming season for soccer and tennis?
For soccer I would like to win league and overall keep up the same energy we had last year up. We had a very good record last year. My goal for tennis is to place in the Richard-Kelly Freedom Tournament. It is a very big tournament where kids all around Northern California come and play. 
Who are your idols for tennis and soccer?
My idols for tennis have to be my brother Zaid and my dad. I watch them play tennis and I got inspired to pick up a racquet. I started to play with them and eventually got addicted to the sport like they were. For soccer, it has to be my dad again. Although he did not play soccer himself, his commitment to the sport and helping me train makes me want to work harder and make him proud.
How has the pandemic changed playing your sports?
Now in my sports they take many precautions and we have to be very careful. For soccer I only practice with my family or by myself. However during my tennis practices, they take our temperatures and have us wear masks when we get closer to each other to discuss technique. Overall, I think that it is very safe so far.
Any future plans on playing in college?
I've been planning to play varsity soccer in college. However no matter what happens, I will always be playing tennis and soccer in my life. The sports have shaped me into who I am.
Any advice to aspiring athletes?
Play any sport you want. Do not be afraid to try new things. Last year was my first year playing on the tennis team and it was the best decision I have ever made. The team was so supportive and helpful. My advice is to not be scared and try it out. Have no regrets later on. This applies to anything in life.