Celebrating the Retirement of Carrie Jones
Carrie Jones was always known to be one of the kindest people– walking into the cafeteria, you would never see Jones without a huge smile on her face. After 27 years working for the district and dedicating her time to hundreds of students every school day, she has decided to retire. Jones worked as the supervisor to 9 other ladies in the kitchen. During her shifts, she would help aid and direct other workers in creating nutritious and yummy foods for the students of Tracy High School. Jones, as well as her coworkers, had one goal each and every day, and that was to put good food in the stomach's of the students and smiles on their faces. Jones had one main takeaway from her years of working, which was seeing so many students happy and building bonds that made it worthwhile showing up to work every day.
Working with students every day, a lot of memories are made. When asked about her favorite memory while working in the cafeteria Jones recalled, "When we first opened the new cafeteria at Tracy High, for some reason kids were not coming in. So I dressed up as one of those fruit costumes…an apple. I had a tray of samples so the students can taste it and I could talk to them about coming into the cafeteria…it was a success. There was a student with he friends that came up to me and said 'Why would you come out here in that stupid costume,' I giggled and said, 'I know it might look silly…but it worked!' We all laughed so hard."
Jones' work ethic and personality never went unnoticed, Melissa Sucrese, one of Jones' coworkers, stated, "My favorite part about working with Carrie was her positive attitude. She was always in a good mood. Her smile and laughter was contagious." There were several fond memories that Sucrese had shared with Jones; however, in regards to Sucrese's most special memory with Jones, she said, "Carrie's last day with TUSD was a special day that I will remember. Her excitement for retirement but knowing how much she was going to miss her job made for an emotional day. Carrie absolutely loved working at Tracy High and cared for every single student. She will be missed."
Although she had worked 27 years for one district, Jones never grew tired of the endless interactions she had with students as well as the staff. She admired her coworkers dearly, when talking about what she loved most about her job at Tracy High she claimed, "I had such a fantastic group of employees…from my ladies here in the kitchen, to our favorite custodian, Debbie Goularte who kept our kitchen so clean, and also the security that comes in during lunch to help us out. It makes my job so enjoyable when your coworkers are all striving for the same thing."
Her admiration for her hard-working coworkers was not the only thing that kept Jones coming into work every day, a big part of the reason why she always maintained a good attitude was the students that she got to interact with during the days. "The kids are what motivates me. It is really special to be around the students and watching them grow. Meeting them as freshmen and seeing them through many good times and bad…then having to say goodbye when they graduate. It was bittersweet…but I would not change it for the world…it gave me a purpose and makes my heart happy," Jones assured.
Although Jones will miss her job as well as the students immensely, she is eager to take on brand new things and to explore the sights of the world outside of the Tracy High cafeteria. When asked about her after retirement plans, Jones said, "Now that I am retired I am really missing the kids. I am sure that when the kids are back at school I will be coming by at lunch to see all their faces again. I do want to do some traveling also…like a cruise and a road trip in a VW van across the US on Route 66." Jones has so many other great plans she is looking forward to, however he Route 66 dream tops the rest!
Jones has been such an incredible member of the Tracy High staff for such a long period of time. Within her time at Tracy High school she has contributed to the campus greatly: catering to the needs of students, going out of her way to carry out acts of kindness to other members of the staff, supplying a huge smile every day, going the extra mile to establish friendships with so many students, and yes, even dressing up as a giant apple to grab the attention of students to encourage them to eat the good food from the cafeteria. Jones will always be known as a kind soul to former students and staff, she will never be fully replaced. The staff and students of Tracy High School are eternally grateful for all of the time and work that Jones has put into the school, we will miss you greatly.
About the Writer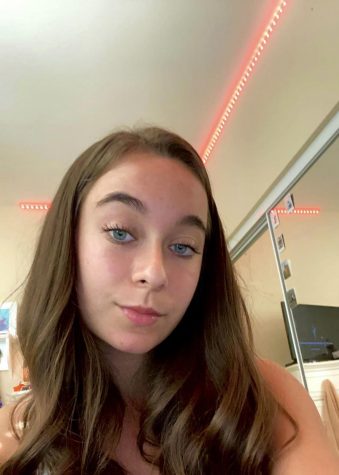 Alina Garcia, Contributor
Alina Garcia is a senior contributor for the Scholar and Athlete. This is her first year taking Mrs. Browne's journalism class, joining for the sole purpose...