College 101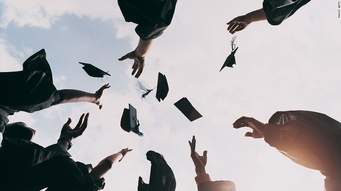 Isabella Capri and Camilla Wiench, Editor and Staff Reporter
November 15, 2018
Uh-Oh! College is right around the corner for so many seniors and the pressure of what lies ahead in their future is terrifying to think about. Luckily, support from all around helps to reduce the stress and increase the excitement for the next chapter in a young teenager's life.
November is the month that college applications are beginning to take shape and ideas about where to go to college start flowing through the minds of seniors.
Sara Barth is a current senior at Tracy High School and she has come to the realization that the process is not as bad as she initially thought.
"The most stressful part was getting people to read my essays due to the mostly personal topics I wrote on," said Barth.
Similar to Barth's ideas, the essay part of college applications requires much consideration and dedication.
Barth is one of many seniors eager to see what their future will comprise of. Morgan Ledda, another current senior at Tracy High School, has already started the college application process and encourages students to explore potential future colleges.
"My advice for future seniors is to tour as many schools as possible," said Ledda.
Ledda's advice is key to ensure that an individual can truly adapt to their new surroundings.
Sports scholarships are common among high school seniors and Cassandra Corbett is the perfect example to rely on.
"I have applied to Stanislaus State because I earned an athletic scholarship to play volleyball for them," said Corbett when asking her where she has applied.
Furthermore, the college application process is different for each student.
Tracy High School offers a College and Career Center that has different college application workshops and college visits to aid students in the process.
According to Mrs. Arce, the supervisor for the center,"Please read and review applications before submitting" she said in regards to the college application process.
With pressures rising, it is easy to miss something on your application and have to go through a long process to fix it if not caught.
With CSU and UC applications being due on Nov. 30, the college visits are almost over, but resources are not. On the 15th and 16th, students are welcome to come to A112 during both lunches for application help.
This center also provides information for students looking to serve after high school. On Nov. 9, the National Guard will be doing a presentation. Those looking to join the Army, the ASVAB is on Nov. 14 at 8:30 pm.
For those interested in cosmetology, The Paul Mitchell school of Cosmetology is visiting on Nov. 30. More visits are yet to be announced but will continue into December.
Be sure to visit A101 for more information and to sign up for visits.