Mr. and Ms. Bulldog winners are announced for Hoopla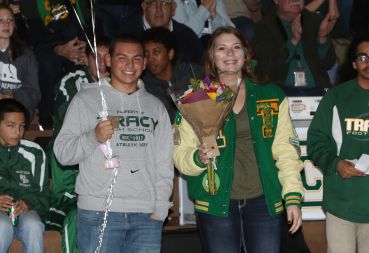 Courtney Vasquez, Staff Reporter
January 28, 2016
At this year's annual Hoopla basketball game, on Jan. 22, the winners of Mr. and Ms. Bulldog were announced during halftime. The winners were seniors Tessa Robinson, and Nicholas Violante.
Mr. and Ms. Bulldog are senior students whom are nominated by teachers, and voted for by the senior class. These students are picked specifically for their achievements in their classes, and how they are as an all around student.
"I felt honored to be nominated by teachers, but I was happily surprised too," Robinson said.
The four other nominees for the boys were Billy Shaddix, Sammy Wong, Joseph Nguyen, and Hamza Raniwala, and the four other nominees for the girls were Angeli Indran, Sarah Kuczma, Hannah Lampkin, and Grace Murphy.
"
It was really fun getting to know the other nominees since I did not really know them too well, and Hoopla was overall a great experience,"
— Violante
Robinson and Violante were also recognized by staff and students for their achievements in school, and they have great plans after they graduate this year. Both plan on being successful at a four year college, and with the other activities they do in their lives.
"I plan to go to a four year college, and study construction management," Violante said.
Mr. and Ms. Bulldog were a part of this year's Hoopla week. Hoopla is an event that is one full week during the basketball season which has activities for all students to participate in. These activities included the black light rally and dress up days for the theme of the week, which was jungle themed this year. At the end of the week was the basketball game against St. Mary's, and the Hoopla dance afterwards.
"My favorite activity from Hoopla was definitely the black light rally, along with learning the dances for Mr. and Ms. Bulldog," Violante said.
Other highlights included the two basketball games, which were against Lodi and St. Mary's, and the noon time activities everyone got to participate in.
Mr. and Ms. Bulldog has been a tradition for many years, just as Hoopla itself has been, and the students had a fun time with this year's activities.
Both winners of Mr. and Ms. bulldog seemed to have had a great last Hoopla week.