Boys' track team has high expectations for the season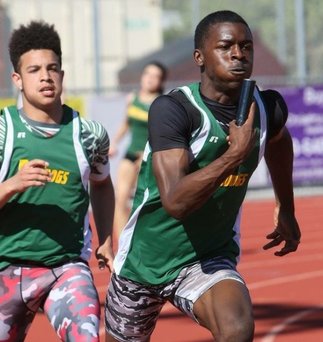 Hang on for a minute...we're trying to find some more stories you might like.
Tracy High's boys' varsity track and field is attempting to kick off the season strong. The boys are gradually working their way up as they practice five days a week. With a total of five meets so far, the season is just beginning.
The Port City Invitational was held last week at Bear Creek in Stockton on Mar.12. Approximately 31 schools came from all directions to compete in this annual meet. Only the top six competitors receive a medal if they place in their event.
"This being my last year of track makes me feel like I need to cherish the time I have left with my teammates because I know I will the time we've spent together and the experiences we've shared these last four years," senior Gabe McCreary said.
Sprinters, distance runners, pole vaulters, jumpers, and throwers are all working hard to accomplish a successful season this year. Being in the TCAL bracket, it is going to be challenging.
"
I'm aiming to break the Tracy High record of 14'7 ft. in pole vault but I personally want to get as close to 16 ft. as I can"
— Cuevas
"I have made a lot of progress from freshmen year to now and I can improve by continuing to work hard each day to get better," senior Josh Perez said.
The Jaguar Relays Invitational was held at Kimball on Mar. 19. At this meet, only the top three in each event receive medals. Senior Daniel Falcao barely medaled as he got fourth place out of 27 in the 1600 meter race.
"Just work hard with the right mentality and have the right reasons to get better and it will be worth it at the end," Cuevas said.
"I feel I will improve and be able to compete throughout the rest of the year and as long as I keep working hard, I'll be able to beat my personal records in the 100 meter and 200 meter," McCreary said.
With hard work and dedication, each individual will carry the team and move forward together as they improve every day.