Born To Be An Athlete
Hang on for a minute...we're trying to find some more stories you might like.
Tracy High School is known for the amazing athletes that come in as freshman and leave as college bound students. This 2018-19 school year has just started and on Nov. 14 9 students committed to their dream schools where they will pursue their love for sports and continue on with their soon to be carriers.
These outstanding students have been in contact with colleges for a while and have now made the final choice on the best fit college for them.  Alayna Carter and the leadership class helped the athletic department put on a signing ceremony in the main gym during first lunch in honor of Tracy Highs very own athletes signing their letters of intent given to them by their chosen colleges.
San Francisco State University bound softball athlete, Marti Rhinehart, said, "I never thought I would make it to this point."
Rhinehart has been playing softball since she was only eight years old, totaling ten years of experience.
"I would never have gotten this far if it wasn't for my friends and family and all the support that I get," Rhinehart said.
Many different interested colleges have contacted Rhinehart over the years but Rhinehart said, "it all came down to what was closer to home so that my mom and family can come visit me and watch some of my games."
Rhinehart feels that having 9 athletes is a huge accomplishment for Tracy High, especially because she has played softball with other college bound athletes since she started ten years ago.
Karina Faasisila will be headed down south to San Diego State University where she will be pursuing her love for the sport of softball.
"It was really exciting and special to see everyone signing and committing to their dream college along side of me," Faasisila said.
After visiting San Diego State as a sophomore and meeting the coaching staff, Faasislia had a good feeling that she will soon become an Aztec.
Softball Athlete Emily Yanke will be attending California State East Bay while staying closer to home.
"After waiting my entire life for this day, to sign with my friends was and exciting experience, " Yanke said.
These have been the longest three years for Yanke, but she always listened to her coaches consistently telling her "Just trust the process and keep believing in yourself."
Once Yanke stepped foot on her soon to be new home and met the coaches and future teammates she new she made the right choice because they all "were very encouraging."
Life time softball player Kaelani Ratliff committed to Stanislaus State along side her softball best friends.
"It is a really great feeling to know that I've come this far and all the years of hard work have finally paid off," Ratliff said.
With Ratliff it all came down to what school was close to home and where she feels she will feel most comfortable to pursue her future carrier in the nursing industry. Knowing that five Tracy High Varsity softball players signed including her, she feels really good that they have all come this far.
"Not only did we make it this far individual but throughout this process we have stuck together sense we were kids and those are my girls," Ratliff said.
Idaho State bound student Isabel Cargill is yet another Tracy High student committing to college through the sport of softball.
"Committing to a college is such a wonderful and amazing feeling since I have been playing softball sense I was four," Cargill said.
Playing college ball has always been a dream for Cargill and now that life long dream has just come true. Cargill visited Idaho State in September and instantly fell in love with not only the college and the campus but the city it is located in and the state all together.
Isaiah Hawthorne is a four year Tracy High basketball player that has now committed to the University Of the Pacific in Stockton California.
"Signing to UOP was a good experience and I'm very happy that I have gotten this far," said Hawthorne.
Basketball coach Damon Stoudamire, has had a good relationship with student Isaiah Hawthorne who feels that he can help lead him to his life goal of reaching the NBA in the future.
Also signing at the ceremony were stand out soccer player Savannah Seals and league champion volleyball players Cassie Corbett and Devan Rose. Seals will continue her playing career at St. Mary's of Moraga and both Corbett and Rose will continue playing together at Stanislaus State.
Tracy High School is very honored to have had 9 student commit to their dream school and soon accomplish more in life after taking off their cap and gown at the end of their high school days. All 9 athletes have done their final signatures in the committing process and now comes the waiting game for their new sports-filled college life to start.

About the Contributor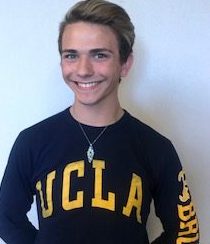 Chase Burns, Contributor
Chase Burns is a junior at Tracy High School. He is involved in the Bulldog Project as well as the Performing Arts Magnet. In his free time, he enjoys...