Tracy High Mock Trial Team Prepares for Another Competitive Year
The Tracy High Mock Trial club has already begun working on their case for this school year. Despite being an extracurricular club, the members of Mock Trial dedicate a lot of time and effort into their club in order to compete competitively. This year, they have been meeting twice a week for regular club meetings, and have even put in additional time for attorney meetings and scrimmages against other schools.
Senior member and President of Mock Trial Natasha Rodriguez weighed in on what exactly Mock Trial is. "It's essentially a fake courtroom setting in which the students get to be both the witnesses and the attorneys."
Senior member Sohyb Mashkoor also gave insight into what the Mock Trial team does throughout the year. "We take on mock cases every year, and we go against other schools. Each team has a prosecution and defense side, and in competition, one side goes against the other side of the opposing school," said Mashkoor.
Mashkoor also went into detail about what it is like being a witness, saying,"All witnesses go through a direct examination where they are guided through a pre-planned examination with their attorney, where the witness is just getting out their testimony. The Cross examination is when the opposing team gets to question the witness in an attempt to discredit them and support their own case."
These trials consist of attorneys, witnesses, time keepers, bailiffs, and a judge, and teams are awarded points based off of how well each individual performs. Other than that, the trial carries on exactly how a real court trial would. Rodriguez, one of the head attorneys of the team, said that, "An average trial can be anywhere from 2-2 ½ hours."
These trials are typically done in a courtroom or in person at a school, but with the pandemic prohibiting in person school activities, Mock Trial has had to adapt.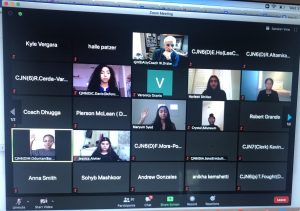 "With the Covid restrictions we have migrated to zoom. It has really benefited us because we have been able to scrimmage with teams all across California whereas normally we would have to travel to schools," said Rodriguez.
Although they are pretending to be in Court, they still have to follow the formal Court rules that they would be expected to follow if it were a real Trial. With the change in platforms, special rules for Court on Zoom have been adopted.
 "There are video call etiquette rules such as, when it is not your turn to speak in court you are expected to turn off your video and mute yourself. If a person does have a wifi issue, we usually have a back- up person to step in to take their spot,"  said Mashkoor.
The Mock Trial team has been practicing and holding scrimmages consistently in these past few weeks, in hopes to ready themselves for the County competition in February.
"This year the competition might be virtual, but the team who gets first place will go on to state," said Mashkoor.
Rodriguez added that the team hopes to get first in County this year, which would mean that they would be able to go on to the State competition.
 "Both my Sophomore year and my Junior year we ended up placing second place in the County," said Rodriguez
This year, she believes that Tracy High will finally be able to place first in the County.
"We've been practicing a lot earlier. As of now we have about 6 or 7 scrimmages under our belt, so we're really far ahead in comparison to previous years," she said.
Mashkoor also gave sentiments towards the team's progress, saying that, "Since I've been in Mock Trial for 4 years, I've seen our growth. A couple years ago we were just in a starting phase, but in the past couple of years we have formalized our team and have gotten a new attorney coach. We've been getting better every year since then."
With all of the hard work they've put in, and the progress they've made in the past couple of years, the Tracy High Mock Trial team has garnered a respectable reputation for both themselves and our school. 
In the end, Mashkoor says that, "Our main goal is to do our personal best, and hopefully get first at county."