A New Leadership Adventure
With a new leadership teacher and an online school environment, the leadership class has been working hard to bring school spirit alive through hard times.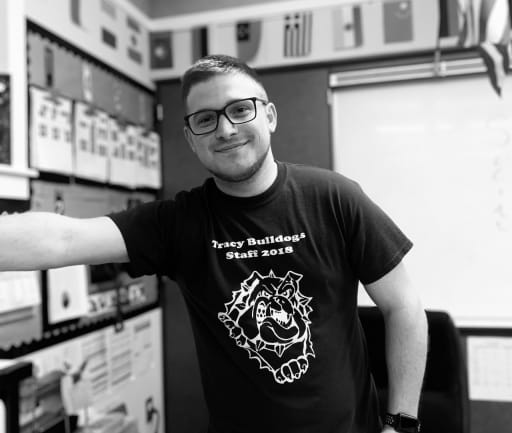 The leadership class has experienced a whirlwind of challenging obstacles thrown their way, but have been working hard to overcome and succeed to their greatest potential for the Tracy High student body. The leadership class continues to collaborate and bring some normalcy to the student body with modified versions of school events and spirit.
With a new leadership teacher, the class had to adjust to new ideas along with having a different class setting. The rising COVID cases in our county led us transition to online school temporarily for the 2020-2021 school year. This has made it increasingly difficult for a hands-on class like Leadership.
Cameron Chitwood is the new leadership teacher who has brought a new perspective to the class. Chitwood is in his fourth year teaching at Tracy high school and has taught advanced history, world history, IB history, and now the Leadership class. Chitwood earned his Master's degree in History from UC Santa Cruz.
Chitwood said relying on the expertise from Alana Carter, who was the previous Leadership teacher, helped his students and allowed him to get up to speed in order for a smooth transition of authority.
"I started to realize that sometimes not everything will go perfect, but getting out of that perfection is where a lot of the fun stuff happens. Taking it day by day and every day I learn something new and every day I learn another thing of how to help the students better serve their school than the day before," said Chitwood.
Carter's welcoming support tremendously helped students adjust to this different class setting.
Carter said, " I have helped with transition by simply just being there for Mr. Chitwood and the students. Like I said, the biggest thing they need to know is I am willing to help and I would like to help. I loved being the Activities Director and any help I can give, I am more than willing."
Two students who have helped Chitwood with his transition to the Leadership class are Natalie Laiolo, ASB President, and Priya Sedhev, ASB Vice President. These two seniors are four year members of the leadership class and their experience was crucial with guidance for Chitwood.
Laiolo said," Mr. Chitwood's willingness to help the students and make our campus modern is exactly  what we need at this moment. I believe all I could do for him was answer all of his questions and inform him of all our past events, info, and etc." Laiolo added that she enjoyed Chitwood's energetic presence he brings to class everyday and that he thoroughly enjoys being involved in the class.
Sedhev added that Chitwood brought a fresh perspective and together with ASB they make a great team.
"I'm helping Chitwood with his first year teaching leadership because ASB and him have become a team. We all carry our own strengths with us, so we have been working together to bring our strengths together to learn and grow together. We all bring our own perspectives to the table and that's why I think its so important to collaborate with others," said Sedhev.
Students in the leadership class said that the adjustments made within the classroom have been successful and inspired various new ideas. This would be the first time school spirit events would be conducted online.
Laiolo, ASB President, said, "Our class is based around putting on events for our student body  and when we can't do that, it is extremely hard to keep students motivated. Following our journey on how to provide events and get the bulldog community involved virtually, we had lots of spirit weeks where students could dress up at home." As a class, the students in Leadership continue to stay positive and make the most of the current circumstances.
Senior Lily Backster, social media commissioner, said, "We've been working really hard to come up with inclusive ways to get the whole school involved through our social  media platforms and spread as much information as we can." Backster creates the well-though out informational posts using an app called Canva for the Tracy High students to share and help spread information about upcoming events.
Ethan Fontes, senior class Vice President, added that the main source for outreach towards the student body is through their public Instagram account @tracyhighbulldogs. They have accumulated over 1,000 followers. With the difficult stress for students staring at a computer screens all day, leadership works towards brightening students days with interactive posts.
"We have been able to get a lot of people involved  and build our Instagram platform even more. The bigger our platform the more students we can reach with important information," said Backster.
The Leadership class also has started a Motivation Monday where they post a motivational quote every Monday on their Instagram Story for students to see.
Junior class president Bailey Gualco said Chitwood introduced social media platforms and how they can improve student involvement.
"He has also introduced the app 5 Star which I believe is a great way to encourage students to step out of their comfort zone and try new activities in High School. My favorite thing about Chitwood being the [Leadership] teacher would be his creative and innovative ideas he brings to the class," said Gualco
Sophomore class president Emerson Leiske also added that that 5 Star app is something she enjoys.
"It helps students stay involved and get rewarded for it! I think it is such a fun idea and I can't wait to get back on campus so we can use the most out of it," said Leiske.
Overall, the Leadership class is successfully bringing school spirit to students at home with the help of Chitwood.  The Leadership students admire Chitwood's dedication to Tracy High.
Priya Sedhev said, "My favorite thing Chitwood being the Leadership teacher is that he is very open. Chitwood has introduced a focus in finding out what the students need and then coming up with ways of how we can better serve our school and student body. I think that is very important because as the Leadership class, it's our job to represent and serve our entire student body. Chitwood has introduced this focus of finding what we can improve on and how to be inclusive, and this is so important because it will allow us to reach even more of our student body."
Carter is extremely proud of Chitwood and the leadership class regarding the amazing progress and success they've had.
Carter said, "I am SO beyond proud of the way they [leadership students] are also handling their role in this crazy 'Distance Learning' environment. They have stepped up big time. They are trying SOO hard to come up with new ideas and trying to build a positive school environment while being at home. They have the hardest job right now. They are trying to make the students feel cared for and wanted while having no interaction with them in person. I am so proud!"
Once a Bulldog, always a Bulldog! Stay tuned for more exciting events planned by the hardworking Leadership class.