A New Way To Teach Hands-On Classes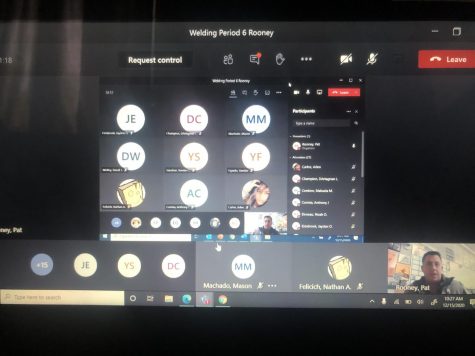 This has been a year like no other, especially one that teachers were not expecting. Some of these classes were easy to transform on line but the hands-on classes had a hard time figuring out new lesson plans that students can continue to benefit and learn from. Pat Rooney, Tracy High Schools Welding teacher, and Jason Gentry, the Wood Shop teacher for Tracy High have had to turn their class around completely. 
The welding class and wood shop class are working classes for most of the school year, minus the minimum days the school has that does not give the students enough time to get in the shop working. The lack of hands-on experience in a hands-on class has proven to be difficult.
"My class is at least ¾ hands on activities and not being able to do any is very hard.  The students are learning the basics but really need to do it themselves in order to grasp the concept," said Rooney.
Gentry expressed similar concerns, saying, "It is difficult not having students on campus and in my classroom.  Students take my class and I teach this subject because a large part of the desired outcome deals with 'hands on' project building or performative tasks." 
Rooney and Gentry also expanded on how they had their students adapt to this different side of the curriculum that still allows the students to learn about the in-shop work just through a computer. 
Mr. Gentry said "Distance learning has changed the way I teach at least by half. I would still cover the more technical, academic side of learning in my class, but missing out on taking that learned knowledge and constructing projects is a bummer. In other words, I would still use the class textbook, videos, PowerPoints, etc. in non-Covid years, but we are missing out on taking that hard work and manifesting it in a nice summative project," said Gentry
Gentry also followed up with how his students complete his wood shop class now, despite the difficulty of a virtual classroom
"Distance learning has changed the way we would conclude each unit/lesson I teach.  Whether I was teaching measurement, woodworking, electrical wiring, welding, plumbing, small gas engines, sheet metal fabrication, etc., all those topics/units ended with at least 2-4 weeks in the shop/lab using the knowledge we learned to perform a task or do a summative project," said Gentry.
Rooney also expanded on how he is running his hands-on class during the pandemic, and how he has gotten his students to learn hands-on things virtually.
 "A lot of the stuff I have done in my classes in the past has been thrown out the door.  In the past I did a lot of demonstrations to the class showing them different skills, techniques, etc., that they need to succeed in class," said Rooney, "I have found it much easier to find videos online than try and set up cameras to show them.  They do a much better job with the camera and editing than I have time to do.  Also I do not know how to edit videos so they have been a life saver." 
Rooney also shared the way his students complete his class due to these new circumstances.
"Instead of completing welds and small projects students watch videos of instructors and others doing things they normally would do," said Rooney.
Unfortunately due to Covid-19 and its high risks, both Rooney and Gentry have not been able to get any students to come and try to get into the shop even if it was a small group. 
During these times of distance learning, Rooney and Gentry express that they are starting to have a hard time not being able to see the students that they would see everyday in their classes or in the halls
Mr. Rooney stated that not seeing students around school every day is very difficult. "I can't wait for students to return to in person learning. It's a big disservice to them trying to learn welding by just watching videos, demos and listening to me rant," said Gentry, "I miss the energy and youthfulness of our students.  I miss their smiles, jokes and characters. I miss them getting excited over a nice finished larb shop assignment or task."
The question that has been on everyone's mind since last year is whether or not they are going back to in-person school this year.
"I want to return to school 'yesterday'. I realize and I am fully aware of the POTENTIAL dangers associated with coming back to school during a pandemic.  However, the future looks brighter with a potential vaccine and medicinal treatments to help our country get through this difficult time.  However, I believe history will prove itself that in the absence of regular, in-person schooling or education, the students suffer the most.  They suffer in a variety of ways," said Gentry, "I believe that for the next twelve plus years we as educators will notice a gap, or deficiency in retained or learned knowledge from students who were school aged during the 2020-21 school years.  This is not necessarily going to affect all students the same, and some will "ride out the storm", in an education and knowledge sense, better than others. In short, I think it is still in the best interest of most school aged children to be back at school, in person, for several important reasons.  I want to come back now." 
Rooney also gave insight into going back to school, saying, "I hoped we would be back in November but the sooner we get back the better for everyone.  Hopefully the school district has the courage to allow students back once the numbers allow."
Rooney and Gentry have really shown that they can and will find a way to help their students out regardless of how tough it might be on them. They have taken a bad situation and some how made their classes still available and able to be used even from distance learning.