Sports during the Pandemic- Coaches Perspective
The pandemic is affecting all aspects of student life in high school. Students are struggling with going to class online and not being able to see their friends. A traditional academic and social environment is integral for the high-school experience. However another major area where students are missing out on is athletics. A large number of students at Tracy High School play sports that are being delayed because of the increase in COVID-19 cases each day. Many students look forward to sports because it is very therapeutic and exciting to compete with your teammates against other schools. Sports is an outlet for students to get away from the pressures of  school and life in general. Along with impacting student-athletes, this greatly affects coaches as well. They have no idea what is next for their team or what they can do for their team to succeed. Philip Kalis, the Varsity Boys' Soccer head coach, along with Matthew Shrout, the Varsity Football head coach, give insight on how it has been to coach during the pandemic, if the sports scene has changed forever, and what their advice is to new athletes.
For Coach Kalis, he did not even start to plan for the soccer season because of how much it has been pushed back. It has been hard for him to plan things for the season because nothing is guaranteed yet and there are restrictions placed upon him that makes it even more difficult.
" There has not been a soccer game played in California for nine months now, either competitive, high school or any level," said Kalis. "There is definitely a disconnect, but if we do have a season, we are looking forward to meeting the players."
Kalis shows how the restrictions are always being updated and changed according to the recommendations from the state of California. However, if they do start playing, Kalis believes that he would have to train the team in small groups and constantly sanitize. Equipment that would constantly need sanitation include soccer balls and practice jerseys. Changes would have to be made to the actual game of soccer as well. For instance, throw-ins during soccer are when the ball goes out of bounds and a player uses his hands to inbound the ball back into play. Instead of this, Kalis suggests now players would have to just pass it with their feet. Overall, players can not use anything above the chest to play soccer. Training the goalies also proves to be a challenge.
"That's the thing in the challenge with the [goalie] position. They would have to be trained in small cohorts with only one or two players in order to minimize the exposure."
Kalis overall emphasizes on the fact that the purpose of this season is to just enjoy it if it actually happens. For him, the only goal is to get kids out there and give them a chance to socialize and see people they have not been able to ever since the beginning of the pandemic.
" The goal is just to enjoy the season and use exercise as a nice outlet for mental health. Ideally, people may be training right now, but I just look forward to having them back."
Kalis believes that the soccer program mission was always to create nice human beings and strong student-athletes. As a coach, he believes that these things are the most important and soccer comes second.His final advice to anyone that is planning to play a sport for the first time is to make sure that they keep their grades up. Online school has been very hard for many kids and if they let their grades slip they would risk their eligibility to  be able to participate.
Coach Shrout has also struggled dealing with the obstacles that COVID-19 brings this year for football and all the sports. This year is his first year balancing being the Sports-Director at Tracy High School along with being the Varsity Football head coach. 
  " It's been busy. Luckily I have been at Tracy High School for long enough so I did not have to introduce myself. They knew who I was and I knew who they were," Shrout said regarding his experience with his role so far. " I think they understand that I run a very successful football program and I want to help them make their program successful as they can. I've been overall lately just making sure how they can stay safe and sanitary in their sports. It's mostly been that type of stuff."
The hardest thing for Shrout as a coach is keeping the consistency on his team during training. His football team would practice, and then take many days off because of new regulations or changes that are being made. The main purpose of practice was usually to have the players exercise by running around the field. Essentially, Shrout wants his players to condition their body back into playing ever since the large break they had during quarantine. Just like the soccer team, many changes would have to be made to football in order to make it safe for practicing.
"They all  had to wear masks, no contact, no physicality, and no equipment. No bags or training material either because sweat can get on and create a higher chance for exposure."
Football is a heavy-contact sport and without being able to tackle and use bags, it makes it extremely challenging to practice many aspects of the game. The only piece of equipment that the players could use is a football that needs to be sanitized throughout practice as well. With this many restrictions, it seems that the football scene has changed. Regarding if the football scene has changed forever, Shrout believes that things will eventually go back to normal. He revealed that this year just gave many players a reflection period to see if they truly liked the sport or not.
"I feel bad for the playersI feel bad for the parents. The hardest part is not being able to do anything," Shrout said when asked if this was his toughest season. " The hardest part is not being able to do anything. When other states are playing games and when we are not even practicing that makes it tough to explain things to people. I understand completely why this is happening. But it is sometimes kind of hard to swallow that we can not do anything."
Shrout reminds how he has had very tough seasons where players would get injured and the odds were against them. This season is hard for Shrout, but it's hard in a different way that no one has ever experienced. However, Shrout still wants to win games and keep moving forward.
" I always wanna win. I think our chances of winning a lot of games this year looks really good. I think that this COVID thing has made the players really tight. When we were out there doing stuff, we were in the right frame of mind."
Shrout's message to those who are playing a sport for the first time this year is to be patient. Freshmen or any person that is new to the sports at Tracy High School, Shrout advises them to contact the coach of the sport they want to play or contact him.
" If we do have sports this year, it will be a great year because there will not be that many expectations on kids. It is a great year to see if they like the sport. Kids can play multiple sports at one time as well now."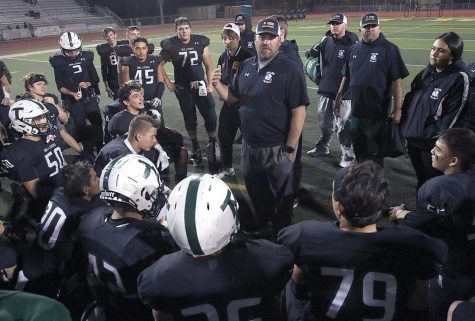 For Shrout, he truly believes that players will be able to play some sort of sport this year. In the meantime, they have to preserve that patience because Shrout and the school is everything they can to have sports.