New Fire Science Class Experiences Successful First Semester
Tracy High School's brand-new fire science class, taught by Sarah Silvinson, a resource English and special education teacher on campus, has had a successful first semester with engaged students and plenty of community support.
Silvinson, in her own words, has "iron in a lot of fires." An avid athlete throughout college at Chico State, she joined the fire department as a paid call, or volunteer, firefighter.
"I thought it would be fun and I had friends that were involved in it," she said. "And that was going on in my life while I was playing rugby and doing a lot of other things. But I always found firefighting to be really fun and interesting… I love being on teams and I love functioning and problem-solving within a team."
And as a team, the fire department supported each other during 9/11. "It was a profound time to be a firefighter, even though I was just a kid and separated from everything that was going on in New York. I remember feeling at that time very grateful to be doing anything positive during 9/11… [It was] kind of like how with COVID you feel helpless. You don't know what you can do but you want to help," said Silvinson.
After finishing college and becoming a teacher, she wanted to help kids get involved in firefighting like she did. "I continued on and finished my bachelors, got my masters [and] got my teaching credential. When kids came and talked to me about what they should do as adults, to a lot of people I ended up saying, 'you should consider a job in the fire service.'"
One of these students, Danielle McNeely, went on to become a firefighter and asked Silvinson to pin her first badge in the ceremony commemorating a firefighter's initiation into service. And it was at that ceremony that Silvinson got the idea to start a class here on campus.
She said, "At her badge-pinning ceremony, I talked to her fire chief, who is the chief at Lathrop-Manteca fire district. His name is Chief Neely. And I said, 'Why don't we have something like this at Tracy High School?'"
"So [we] and our principal, Jason Noll, started to think about how we could make that happen and then collaborated with South Country Fire, which is the Tracy fire department, and Lathrop-Manteca Fire, and here we are," Silvinson said.
But, she added, it would not have been able to happen without "the support of our principal and the district, who are excited about the program."
Silvinson worked hard all summer to procure gear for this new class to use.
"I contacted the state of California and they got me some out of service turnouts, which are the jacket and the pants and the suspenders… [And] we have a handful of sets of boots and a bunch of gloves that Lathrop-Manteca fire district donated." And, she added, "I articulated the class with Las Positas college, which means the kids that take the class can earn college credit if they get a B or higher and they pass both semester finals. And with that articulation came a lot of awesome support from Las Positas."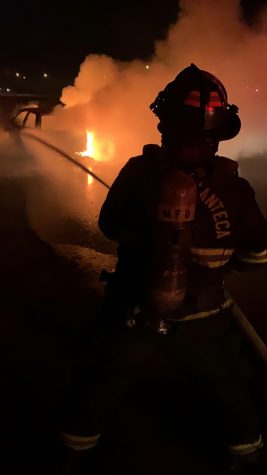 Silvinson is also hoping for one larger donation, but she is thankful for the overwhelming support that the class has received so far. "We're hoping to get a fire engine this year donated from Las Positas," she said. "And we've been lucky to have support from the whole community. The fire department is a community-focused endeavor, so we've been really lucky that they've reached out."
Now, Silvinson teaches fire science along with her other classes on campus, works shifts as a reserve firefighter with the Lathrop-Manteca Fire Department, and is a full-time student working toward earning her PhD.
The most challenging part about teaching fire science this year has been conducting the class over distance learning. Silvinson said, "The fire class is one of those classes that kids sign up for because they are hands-on learners, so I think it's a difficult thing to teach them this kind of subject without them getting to interact with the tools and wear the heavy equipment…"
As a platoon leader in the class, Maddison McElley leads other students in physical training on Mondays and Wednesdays and is "responsible for five other students and helping them stay on track with their assignments as distance learning is difficult for everyone."
"I think that this class is a good way for a student to get their feet wet in terms of fire service," said McElley. "The class offers students a way to understand the basics of fire service, respect, accountability, responsibility, communication and other skills that are key in the fire service."
As a fire science teacher, Silvinson is concerned about the unprecedented fire season experienced on the West Coast this summer.
"My nephew lost his home, lost his school. My brother lost his business… Where we live here in California, wildfires are a real thing. It's not something to take lightly. I know CalFire and the fire departments across the state work really hard and the fire season is really long and arduous… Speaking as a teacher, I think that we have to acknowledge that climate change has something to do with fire behavior, and of course, each of us is responsible for trying to make the environment better for the next generation," she said.
But even with these concerning notions in the back of her mind, Silvinson loves to teach fire science and students in general, finding it to be one of the most rewarding careers. "I just love teaching," she said. "Being a high school teacher is so cool because when kids come in they're about thirteen and fourteen, totally still kids, and when they leave they're seventeen and eighteen, adults. And they go through… becoming who [they] are."
Anyone can join fire science at Tracy High School, which has no prerequisites, and Silvinson is proud of the proportion of females within her class this year. "Everyone is welcome," said Silvinson. "The more representative it is of our diverse culture, the better. Kids from every background and every ability should feel like they can come take the class. I teach students with special needs and I love that and I want kids on IEP's in the class. This year about half of our students are female, and I'm really proud of that because we want men and women in the fire industry just like we want men and women in every industry."
Silvinson has made many accomplishments to reach this point and is excited about the future of fire science at Tracy High School. "You'd be surprised by how far you can get by just getting your hands dirty and getting to work," she said.