You Just Got Served
Tracy High School girls volleyball looks to extend their season tonight as they play in the second round of
the 2021 CIF Sac-Joaquin Girls Volleyball Playoffs. The Bulldogs (18-5) will host the Bulldogs (22-3) of Vacaville High School tomorrow tonight at Tracy High starting at 7 p.m.
Junior defensive specialist Claire Hamer is very excited about the potential crowd that will show up
tonight.
"It is super fun, I feel it helps our team (when there is a big crowd) because we like when people come
watch us," Hamer explained. "There is pressure because we won sections in 2019, so we want to have to
keep that title and we are number one in D2, so we need to keep it up".
Hamer believes one of the biggest keys to success will be senior libero star Alyssa Cargill. According to Hamer,
without the help of Cargill, she's unsure what type of success the team might have had this season.
"It is really important to have her on the court and it's good that she has experience, she's been on Varsity for
three years and has experience playing with older people," Hamer said.
"I feel very confident about playoffs, and I want to help my team keep cool so we can (and will) win section
championships," Cargill said.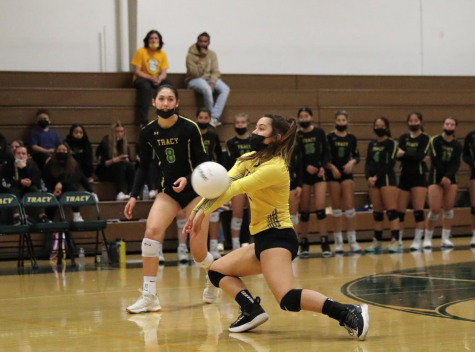 "It feels nostalgic since I would watch freshman and JV play and realize that its my last year being one of
them, so I want to leave a lasting impression on them," Cargill said. She also said, "it felt a little weird being
captain, but I have grown into the role and taken it with pride, there are many personalities and different
kinds of people on the volleyball team so I do my best to make sure that everyone finds a happy medium
with one another so we can all compete at our best level possible".
This year the volleyball team has had its ups and downs, but all around they have had a positive season.
With them going 18-5 overall, the team has a 0.78%-win percentage, and are 8-2 in League. The five losses
this season were at the hands of St. Mary's, both at home and in Stockton, as well as Ripon Christian, who
had a perfect league season. The Bulldogs also loss to Campolindo and Summit Shasta St. Mary's, who
also had a perfect league record of 9-0. Tracy has scored 51 points this season and only gave up 21 points.
They are currently on a five-game win streak, coming into the playoffs in third place in league.
The Bulldogs have had their hands full in the playoffs, Hamer said, "we need a better attitude when we
are playing and just be more consistent with our hitting, but overall, we are doing good."
The Bulldog's will host Vacaville at home at 7 p.m. tomorrow tonight. Tickets must be purchased online at GoFan
prior to the games start.