Spider-Man No Way Home Review
Spider-Man No Way Home is the newest movie in the Marvel Cinematic Universe (MCU) and has been out for a little under two months. The newest installment of the Spider-Man franchise has a great combination of everything you would want from a movie: action, drama, and an easy story to follow. No Way Home is a movie that all audiences will find enjoyable, regardless of age. Longtime fans will see the return of characters from both previous Spider-Man films, from the returning villains such as Doc Ock, Electro, Lizard, Sandman, and Green Goblin.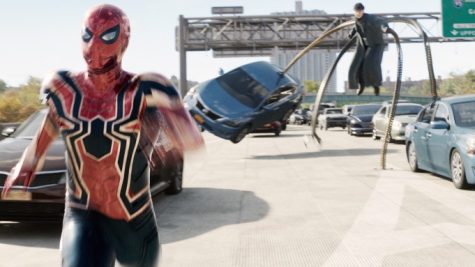 The movie is 2 hours and 28 minutes long and there is never a dull moment. There is constant scenes that will keep you engaged and entertained. I personally really enjoyed the movie as a fan of Marvel Movies myself. This movie introduces the multiverse into the Marvel Cinematic Universe and collides multiple universes together from the three different Spider-Man universes. The movie has characters from the original Spider-Man movies from the early 2000s, characters from The Amazing Spider-Man universe, and characters from the current universe. This movie also introduces some new characters to the MCU, such as Matt Murdock, who is also known as Daredevil, a lawyer by day and a vigilante by night. This movie is the first movie to feature the multiverse which will directly lead to Doctor Strange and The Multiverse of Madness, the next film of Phase 4 in the MCU. Spider-Man No Way Home is on its way to be one of the biggest movies of all time and has currently made 1,804 billion in the box office. It has surpassed Avatar, becoming the third highest-earning movie at a box office with an outstanding $760.988 million. I personally really enjoyed the movie and would highly recommend it to anyone who hasn't seen it yet.