Pregame Predictions- Baseball 2022
Baseball is finally starting up, with spring just around the corner and the players are ready to win a title this year. With their last year's season getting cut short because of COVID restrictions, they are very excited to play a full season.
I had the pleasure of talking to some of the varsity baseball players. I got to talk with two seniors: Drew Fredricks, the 2nd baseman, and Cooper Wilcox, the 3rd baseman. They had a lot of things to say for this upcoming baseball season, most importantly that they are ready.
First, I sat down with Fredricks, who was also the starting quarterback for the football team. Sadly, they did not make playoffs for their last season.
"I had a good time and I'm sad that it was over so soon," said Fredericks
Fredericks has played all four years with two years on varsity for baseball.
"I am very excited and ready for this upcoming season," said Fredericks.
I asked him how he feels with the chemistry of the team and how far he thinks the team can go.
"The team and I have a lot of chemistry and history and I feel we work well together," Fredericks continued. "I feel that we can go very far and go all the way."
Fredericks explained how he feels about the season and what  his emotions are with this being his last year of Tracy High baseball.
"I feel good about my final season and I'm a little sad that it is over, but it was very fun," he explained.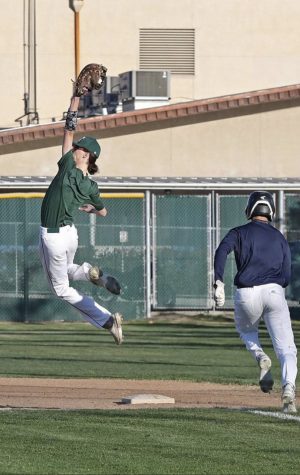 The next player that I had the opportunity to interview was Cooper Wilcox, the starting third baseman with the "best hair" on the team. The senior has played all four years for the team and has played for varsity for two years as well. My first question was how he felt the upcoming season would go.
"I'm feeling good," Wilcox said. ."We have a solid team with a lot of solid players."
I followed up with how he felt about the team's chemistry and how well they work together?
"The chemistry could not be better," he explained. "We all mesh very well."
After talking with Willcox, he seems confident with his last season. So, for my last question, I asked him how he felt about it being his last season as a Tracy High baseball player.
"Right now I don't feel any different but it's going to be tough when I'm playing that last game with the guys," he concluded.
Both of those players are very excited for the upcoming season and what it will bring. Now we wait and see how the season unfolds.