An Ag/Sci Celebration!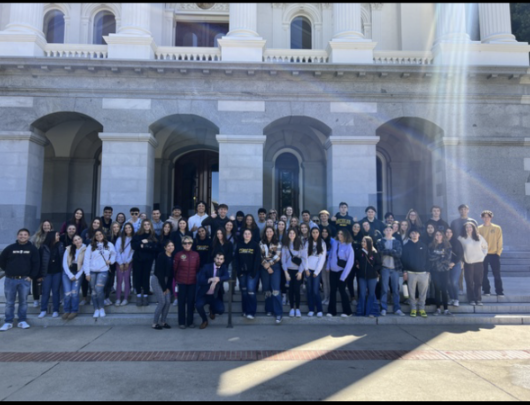 On March 30, the Tracy High Agriculture and Science Academy went on its first field trip to the state capitol in Sacramento. The entertaining and educational trip was the first and only field trip for the academy.
Due to the covid-19 pandemic, the class of 2023 wasn't able to have a field trip. With everything shutting down, the students haven't had the chance to have a typical high school experience. 
The Ag/Sci Academy was kind enough to give the seniors one final field trip. The trip was a celebration for the seniors completing their final projects.
The Ag/Sci Program is dedicated to preparing students for their final project. With portfolios and research being made each year, the students complete their final project by the time they become a senior.
In honor of the hard work put in by the class, they spent a day at the state capitol and wandered around Old Sacramento.
The Sacramento State Capitol is the government headquarters of California and the official residence of the governor. It has a beautiful dome, gardens, and artwork depicting California's history.
Old Sacramento is a popular tourist destination that preserves the city's Gold Rush-era history and architecture. The area features preserved buildings, museums, shops, and restaurants that showcase the city's past.
Robbie Barnett, a senior in Ag/Sci, liked the tour guide the most and the interior floors of the building.
"My favorite part was when we got to walk around old town Sacramento and go into a candy shop," Barnett said.