New assistant principal and eight new teachers join Tracy High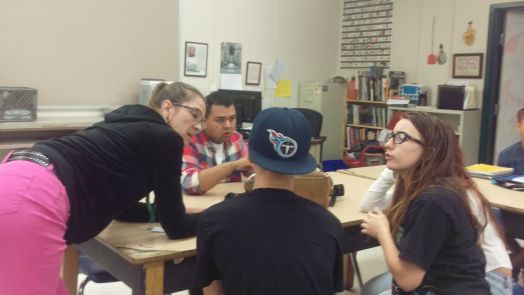 As the start of the new school year, every school welcomes its new teachers with open arms. With the different teachers coming into the school, as well as the return of former a Tracy High teacher as assistant principal, the year of 2015-2016 is beginning.
Former history teacher Bruce Sewyer has returned as an assistant principal, replacing Joni McGinnis, who took a similar job at Oakdale High. Sawyer was an assistant principal at West.
"
When I had left the school, I expected to return to something even better, and the idea become much clearer when heard of the construction back in 2011. Now, coming back to this school, and that despite it changing in appearance, it is still the same school I remember"
— Bruce Sewyer
All new teachers make their start somewhere in their career. Biology teacher Andrew Hutton and Ag-Science teacher Sara Adair both begin their first years where they graduated, 2010 for Adair and 2011 for Hutton, as well as beginning their very first years as teachers.
"The campus is different from what I remembered," Hutton said. "The only building that is the same is the E building. The set up was much different than the classrooms I was in, which were shaped into long rows. They started the construction when I graduated."
Hutton is not the only one that sees the differences of the school. Adair and ROP teacher Corrina Halbrook, who was also a graduate of Tracy High, have both stated that the school has changed much more than when they were here, Halbrook gave examples of the lockers being taken out, as well as an area called the Senior Court that was taken out as well.
"The Senior Court was an area that has usually occupied by the seniors, hence the name. Most spent their time there during passing periods and lunch," Halbrook said.
Despite this, the new teachers have been welcomed by the faculty, some recognizing when they were students here. Math teacher Charles Lunetta worked at West High for the past 21 years. He found the teachers to be generous, and felt like a part of the school.
New teachers have also found the students to be as welcoming as the teachers.
"Even on my first day, the kids were very friendly, and continue to be so these past few weeks. I feel impressed by their responsibility of their work and their friendliness to their fellow students," Film Studies and Art teacher Joy Cornish-Bowden said.
The teachers are becoming familiar with the new curriculum being used at the school and are expecting big things from students.
"With the new curriculum, the set up is different, and is going to take patience from the both of us to figure it out," Math teacher Michelle Pereira said. "Even still, it is worth because it makes the experience better for both the students and the teachers."
"I want my students to being able to have critical thinking in science," Hutton said. "And are able to apply it in the real world for their future."