Girl's water polo team makes progress in tough league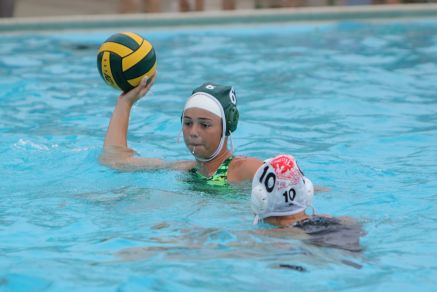 Thirteen weeks into the school year and water polo is slowly coming to an end; Oct. 21, the water polo team played in their second to last game of the season against St. Mary's. However, the score was girls' 13-5, the win in St. Mary's hands.
Coach Bo De Lange set many goals for his water polo team this year and after Wednesday's home game he announced the overall league record of 2-8.
"My goals were to develop players and understand the capabilities of the team as a first-year coach," Lange said as he achieved these goals by "coaching".
"The season was around what I expected, and I attempted to pass on as much information about the game as I could," said Lange.
"
The girls were much better at implementing a water polo structure and understanding scenarios; therefore, many of my girls have made strides in understanding the game"
— Lange
"I think our team is improving more and more each game we play; however, we need to improve our communication both in and out of the pool," senior Carly Walling said.
"This last game at St. Mary's we communicated well, and everyone worked hard which was important while playing this specific team," Walling said.
"I believe this season has been tough on the team as a whole considering we have a new coach and our league is a big challenge," senior Emily Hall said.
Hall has been playing water polo for three years at Tracy High, but has not decided if she wants to play her freshman year in college considering she is a senior now.
"I believe our team is well structured with personalities. We always know how to make the best out of the games, whether we are losing or winning," Hall said.
Hall believes the team has great chemistry.
"I think we played well at our home game on Wednesday. We hung in there and kept battling. We may not have won, but we put in our all."
"I'm excited for the rest of the season and to play our rival game against West for our last game of the season," Walling said.