A Night to Remember
What's going on with Prom? A question most students and their parents are asking. Lots of students are still wondering what's going on with this upcoming dance. Good thing we're here to help.
This Saturday, April 9, Tracy High School will be hosting their own prom at the Lake Chalet venue in Oakland. Students must be at school by 4:30 p.m., as this is the time we will be loading into the buses and heading out by 5 p.m. You will be seated on a bus according to when you bought your ticket. If your date did not buy their ticket at the same time, or is not written as your guest, there is a chance you will not be on the same bus.
Tracy High will have photography opportunities inside of the cafeteria from 3:30 p.m. to 5 p.m. After that, you're off to prom!
Lake Chalet is a beautiful venue with one of the best scenic views. The dance will offer a full 360-degree photo booth, fire pits, casino, karaoke, silent disco outside and live music inside put on by DJ ASAP. Dinner will be served with drinks to follow.
The menu is as follows; sliders, vegan quinoa and white bean sliders, mini lobster rolls, fried chicken tenders, assorted quesadillas, french fries, assorted baked goods and cupcakes. The beverages include unlimited soft drinks, iced tea, juice and coffee. More information about the food and drinks is located online on the senior activity page of the Tracy High website or Instagram.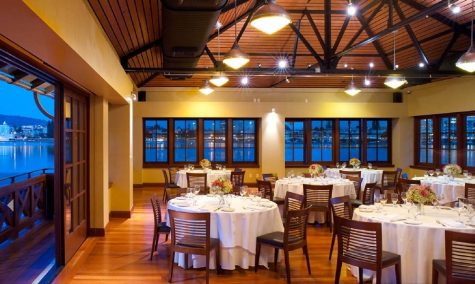 You must be at school by 4:30p.m. to get on the bus. Students attending the dance are planned to arrive back at school by 1 a.m.
Tracy High's activity coordinator, Cameron Chitwood, shares the experience and the hard work that goes into planning this prom.
Lake Chalet has been the predetermined location for the past two years. "A prom that has been planned by three different classes," Chitwood explained. This is how this venue has been grandfathered and passed down to us.
"As long as you're coming to the prom with either a negative covid test or a vaccine card, everyone will be able to enjoy everything," Chitwood said.
Meaning that the inside and outside locations will not be segregated depending on if you have your vaccine or not. Make sure to show the attendance either proof of a negative covid test, or your vaccination card before Saturday. A picture is acceptable as well.
Screenings and bag checks will be required before stepping onto the bus. School rules will be as follows; no illegal substances pertaining to alcohol, drugs, etc. Make sure everything you are bringing is appropriate.
Chitwood said, "Students will be held to the school rules and expectations."
The dress code will be followed according to the school expectations, but Tracy High will be more lenient toward the outfits worn.
Chitwood finished off with his expectation of this prom as he said, "I want you kids to have fun and enjoy this awesome moment in your junior or senior year."
Prom is only a short few days away. Make sure you are prepared and ready to have a great time!